Walking on Water images began as Fujimura's elegy to the victims of March 11th, 2011 Tohoku Great Earthquake and the Tsunami. The series continues now as a collaboration with visionary composer and avant-garde percussionist Susie Ibarra. Ibarra took an underwater microphone to Himalayan hills, to record the sound of glaciers breaking and melting, and uses that as the immersive backdrop to her composition. Walking on Water, therefore now, has become an elegy to the climate change crisis, as well as an homage to human resilience of hope in dire circumstances. Fujimura and Ibarra hope to install the paintings and the composed music in a series of museums and sacred spaces.
Painted often outside in his Princeton studio, Fujimura uses coarsely pulverized azurite and malachite and asks the question, "can we walk on water?" This image was also used for the cover of Fujimura's new book Art&Faith: A Theology of Making (Yale Press, 2021). To Fujimura, to paint is to discover the new vista of New Creation, while noting the fractures and pulverized earth beneath him.
As Fujimura attempted to finish the piece Walking on Water—Banquo's Dream, Superstorm Sandy hit, wiping some fifty works at Dillon Gallery. Thus, the process of painting for him has now become, literally, a way to "walk on water." Fujimura writes:

Walking on Water—Banquo's Dream was inspired by watching my second son Clayton play Banquo at Bucknell University's production of Macbeth. I began the painting soon after, and finished the work as Sandy blew over my new studio in Princeton area. Sandy caused a prolonged power outage, but Nihonga technique, fortunately, is pre-electricity, so I was determined to continue to work.
A heavey summons lies like lead on me,
And yet I would not sleep. Merciful powers,
Restrain in me the cursed thoughts that nature
Gives way to in repose!
—Banquo, in Macbeth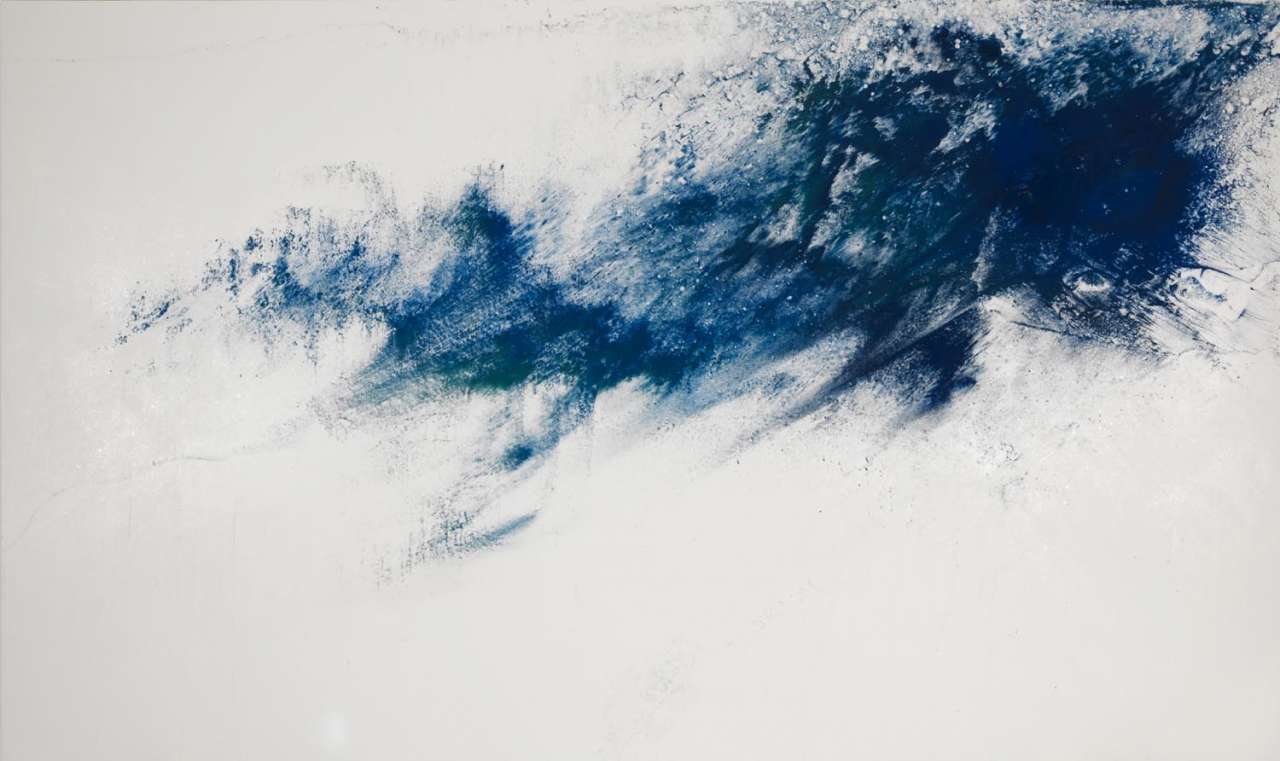 "That ability results no little bit from Fujimura's formal, and technical, mastery of scale. His paintings, no matter their size, display one of two scales, vast and intimate. These two extremes are oppositional in human regard; but in nature, where Fujimura's art thrives, they are simply two sides of the same coin. In life, after all, as in his art, the thunderous emptiness of the sea abuts the granular detail – the living as well as mineral highlights. – of the beach. In life we habituate somatically to such jumps in natural scale; Fujimura wants to reassert such dimensional elasticity in his painting as a testament to the miracle of the world itself and the position of humankind, at once fixed and fluid, within it."
—Peter Frank (Los Angeles critic) recent review: MAKOTO FUJIMURA: AN IMMANENT ABSTRACTION